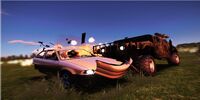 "The Wrecker was three tons of steel which crushed everything that came in its path. Four 18 inch off-road tires just waiting to tear up the asphalt and mud. 413 HP lurked under the humpbacked hood, just waiting to be let loose. Damn, the thing was ugly as sin, but if you wanted to leave a wake of devastation behind you, the Wrecker was the first and best choice."

"Beating - Anyone?" is the 21th mission of Career. The player needs to reach 25 team wrecks faster than the hostile team.
Apachee Super Turbo 220X and Wrecker become available in the shop after completing this mission.
Details
Game Mode: Wrecking Match - Team Deathmatch
Prize: 94000
Rep: 450
Drivers: 5
Vehicle: Wrecker