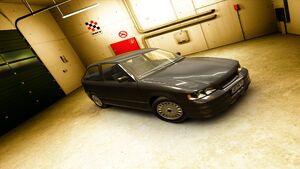 The Buster is an E Class
car for Crashday. Its layout is FF (Front-engined, Front-wheel-driven) and its engine is coupled to a 5-speed gearbox.  The Buster is similar to the Cube in terms of performance. It's less susceptible to impacts and deals more damage than the Cube, but accelerates somewhat slower. Similar to cars of its class, its top speed is low and it slightly understeers when cornering. Above average armour and wrecking power makes the Buster suitable for wrecking matches.
The Buster's real life counterpart is the Opel Astra F GSi.
Trivia
The Buster comes with a stock spoiler.
Modification
Gallery
Ad blocker interference detected!
Wikia is a free-to-use site that makes money from advertising. We have a modified experience for viewers using ad blockers

Wikia is not accessible if you've made further modifications. Remove the custom ad blocker rule(s) and the page will load as expected.