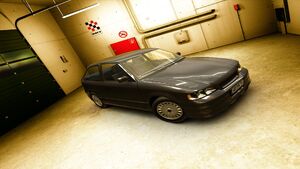 The Buster is a class E car in Crashday. Its layout is FF (Front-engined, Front-wheel-driven) and its engine is coupled to a 5-speed gearbox.
The Buster is similar to the Cube in terms of performance. It's less susceptible to impacts and deals more damage than the Cube. Its acceleration is also nearly identical to the Cube, however, it is capable of reaching a lower top speed. Similar to cars of its class, its top speed is low and it slightly understeers when cornering. Above average armour and its agility make the Buster suitable for wrecking matches.
The Buster's real life counterpart is the Opel Astra F GSi.
Modification
Gallery