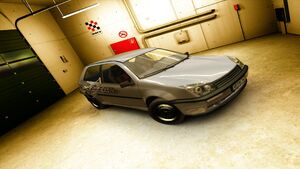 Cube is a class E car in Crashday. It has a 5-speed transmission and front-wheel drivetrain.
Cube shares many traits with Hunter, albeit with less top speed, higher acceleration and heavier weight. Its acceleration is nearly identical with Buster. The Cube handles similar to the cars of its class, tends to understeer but otherwise easy to drive.
It bears a strong resemblance to Volkswagen Golf mk3.
Trivia
Cube shares the same physics parameters with Hunter.
On the contary of the other cars, Cube comes with 4 performance upgrades, with the 4th kit being called "Ultra performance kit"
It's referred as "Wolf" in game files, possibly hinting it was previously named as "Wolf" at one point.
It's the only car with a carbon hood available for purchasing.
It comes with pre-installed racing seats.
Modification
Gallery