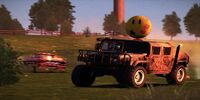 "Pick up the flag from the course or steal it by ramming the flag holder! Once you're in possession of it, hold it and drive through the marked checkpoints! The player that first drives the flag through a number of checkpoints wins the competition."
Hold The Flag is one of the seven game-modes in Crashday.
The player needs to have the flag either by picking it up from the course or stealing it from the holder and then drive through the marked checkpoints. The player has an option to play as solo or as a team.
Tips
Find the flag using by the HUD arrow and the radar.
Once you hold the flag, get to the checkpoint indicated by the HUD arrow and the radar.
The driver holding the flag is slightly slower than his opponents.
Trivia
Time limit variant is left unused in game files.
It's possible to lose the flag by flipping over.
Requesting recovery while holding the flag will cause the flag to respawn in the track.
If the flag stays on the course for more than 30 seconds, it will respawn in another location for once. This only occurs after the flag holder loses the flag.
The player cannot see the marked checkpoint if the flag is in possession of an opponent or a rival team. However, it's possible to see it if the flag is being driven by a teammate.
Gallery
Ad blocker interference detected!
Wikia is a free-to-use site that makes money from advertising. We have a modified experience for viewers using ad blockers

Wikia is not accessible if you've made further modifications. Remove the custom ad blocker rule(s) and the page will load as expected.