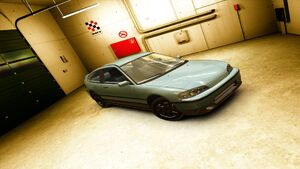 Hunter is an E class car in Crashday.
It is the first car to be unlocked in career. Weighting only 1023 kg, it accelerates quickly and feels very light in corners. Hunter has a 5-speed transmission and front-wheel-drive drivetrain. It's capable of reaching a faster speed than both Buster & Cube. Compared to Cube, it has a superior top speed at the cost of an inferior acceleration. Interestingly enough, both cars share the same wrecking power and armour. A challenging car for wrecking matches, Hunter easily gets pushed around by heavier and larger cars due to its weight.
Hunter XT-5 is based on the second generation Honda CRX.
Trivia
It's the lightest car available in game.
Hunter comes with 3 performance upgrades instead of 2.
It has a unique license plate.
Hunter shares the same physics parameters with Cube.
A cut vinyl "Impact Turbo" can be seen in pre-release screenshots and game files.
Modification
Gallery
Ad blocker interference detected!
Wikia is a free-to-use site that makes money from advertising. We have a modified experience for viewers using ad blockers

Wikia is not accessible if you've made further modifications. Remove the custom ad blocker rule(s) and the page will load as expected.