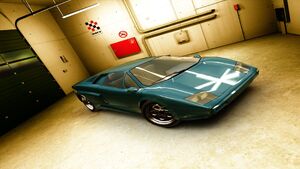 The Judge is a B class car in Crashday. It's one of the best cars available in the game and arguably the best B class car. It has 5-speed transmission. When tuned, the Judge has great top speed, strong armour and above average crash power. With the right tuning parts, its acceleration is on par with the Ironhorze V8 and Incubator V12. Oddly enough, despite being a sports car, the Judge is front-wheel driven which limits its offroad capabilities. It also comes with very reactive steering, which can make it quite challenging to drive at times. It is competitive in any gamemode, but especially in wrecking matches and races.
The Judge is based on the Lamborghini Countach.
Trivia
The heavy performance kit of this car comes with modified brake lights, which read "KIZZ MY AZZ" when braking is applied.
The yellow stripes vinyl was originally black.
A cut vinyl for the Judge can be seen on pre-release trailers and screenshots.
Sometimes, missiles may not hit the Judge and fly over its roof instead. This is due to the fact that it's a low-slung sports car, unless equipped with offroad suspension.
The Judge is a retro-styled vehicle. While the design of the vehicle draws inspiration from 80's Countach, it's equipped with modern LED tail lights. It's also the only vehicle with such lights.
Modification
Gallery
Ad blocker interference detected!
Wikia is a free-to-use site that makes money from advertising. We have a modified experience for viewers using ad blockers

Wikia is not accessible if you've made further modifications. Remove the custom ad blocker rule(s) and the page will load as expected.