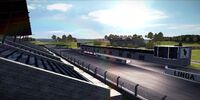 At first, the idea with the DVDs didn't go down too good with the bosses at all. Too much publicity. It took a while for them to realize that the sales of the videos indirectly affected the income from the betting offices. The more videos we sold, the more the dimwits shoveled their money into the betting offices. From there on in, we were on a roll. Man, we made so much cash, it was like the whole world belonged to us. Remember Mansfield Speedway? Even before the track was officially opened, we organized a race there. People loved us for having ideas like that.
"Mansfield Speedway" is the third mission of Career. The player has to finish 2 race laps first.
Ad blocker interference detected!
Wikia is a free-to-use site that makes money from advertising. We have a modified experience for viewers using ad blockers

Wikia is not accessible if you've made further modifications. Remove the custom ad blocker rule(s) and the page will load as expected.