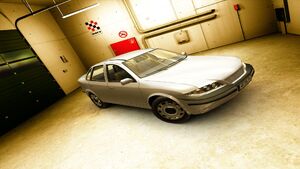 The Spectran is an E class car in Crashday. As Crashday's starter car, the Spectran is the slowest car in game. It's one of the easiest cars to drive due to its forgiving nature. Spectran has a all-wheel-drive drivetrain and a 5-speed transmission. When upgraded, it can put up a good fight against cars of its class. Armour and wrecking power are moderate, but not sufficient for class B. Still, it's a good choice for technical tracks with not many straights, thanks to its excellent handling.
The Spectran is based on the Opel Vectra B, with minor changes, such as tail lights from the Mazda 6 GG1.
Trivia
Unlike most other vehicles, the Spectran is a 4-door vehicle, along with the Wrecker.
The Spectran has an unused vinyl called "Polizei", which has been made available in Redline Edition.
Perhaps unexpectly, it has a higher crashpower than both the Bornbad and Firespitter after upgrades.
After max. armor upgrades it has more armor, than Incubator V12
Modification
Gallery
Ad blocker interference detected!
Wikia is a free-to-use site that makes money from advertising. We have a modified experience for viewers using ad blockers

Wikia is not accessible if you've made further modifications. Remove the custom ad blocker rule(s) and the page will load as expected.