"Take your car for a ride and freely roam around."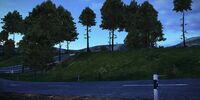 Test Drive is one of the seven game modes in Crashday.
This game-mode has no objectives or AI which means the player is free to drive around.
Trivia
It's not possible to play Test Drive on Multiplayer.
In original version, it was impossible to change the time setting, damage or disabling weapons and nitro.
Ad blocker interference detected!
Wikia is a free-to-use site that makes money from advertising. We have a modified experience for viewers using ad blockers

Wikia is not accessible if you've made further modifications. Remove the custom ad blocker rule(s) and the page will load as expected.